What are environmentally sensitive cleaning solutions? A ProfitMax Chemical Frequently Asked question out of Taylor County Texas. Listen to more about these concepts on the ProfitMax Chemical Environmentally Sensitive Cleaning Podcast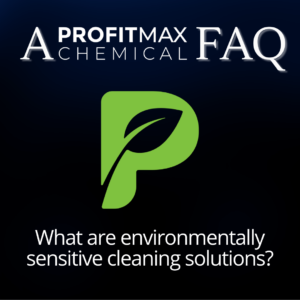 What are environmentally sensitive cleaning solutions?
Cleaning solutions that are environmentally sensitive cleaning ones consider the entire process of manufacturing practices and packaging materials, marketing, shipping, and transportation and even relating to the end year reports as to the bottom line of a company's productivity. Environmentally sensitive cleaning solutions further accounts for water consumption and the impact on people.
What are other related questions?
For many, cleaning can be confusing, expensive, and even dangerous at times. Such questions arise as…
Do I go completely green with my clean and should I use chemicals at all?
Are those chemical cleaners safe for my employees and customers?
Can I combine products for a greater result and how diluted should they be?
How hot does the water really need to be?
What are the effects on my skin, my eyes and my nose?
Do I need to open windows and do I need wear gloves?
And what is fact and what is opinion surrounding chemicals and cleaning?
ProfitMax Chemical's qualitative and quantitative Proof of Process centers around educating, selling and training on the products and the individualized applications.
Our Proof of Process takes into account:
Cost elements

Product specifications

Understanding the products

The time it takes to clean

Amount of product required to clean.

Employee Training modules

Management Education and Support.

Environmental Impact

Asking the questions of those looking to help you with the products that best suit you and suit your requirements can help to ensure you are working with the right people. Take the time to vet and find the answers that suit you. Many practice a yell, tell, sell. However, when you look for the information, intelligence and proof, you may find the answers that can serve you the most.
This is a ProfitMax Chemical Frequently Asked question. More found on the FAQ page as well as addressed in the Podcats.