Intellectual Property Policy for ProfitMax Chemical
About the Intellectual Property Policy
By accessing the ProfitMaxChemical.com Website, you acknowledge and agree that all Copyright Materials shall at all times remain our proprietary property and/or shall at all times be vested in us or our related entities or third-party licensors.
Intellectual Property Policy: Using Our Copyright Material
You are permitted to access and use the Copyright Materials on our Website for your own personal reference and non-commercial use and for placing an order with us.
However, you may not: modify; copy; reproduce; republish; upload; post; transmit; or distribute, by any means or in any manner, any material or information on or downloaded from our Website including but not limited to: text; graphics; video; messages; code and/or software without our prior written consent, except where expressly invited to do so, for example in order to complete any test or questionnaire.
Our status (and that of any identified contributors) as the author of the Copyright Materials must always be acknowledged.
Any unauthorized use of our Website is strictly prohibited and constitutes a breach of our or our licensors' intellectual property rights.
"We may not get everything right, but at least we can do what we say we are going to do"
– Brian Bluhm, ProfitMax Chemical President and Founder.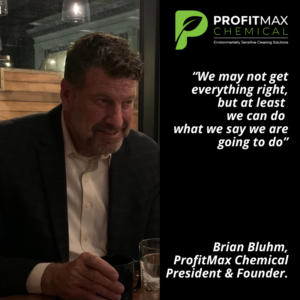 Intellectual Property Policy: Requests to Use Copyright Material
The ProfitMax Chemical Website may incorporate third party content and we would be unable to grant permission for you to use any such third-party content. Please contact the appropriate third party for permission to use their content.
If you are seeking permission to use any Copyright Materials other than as expressly permitted by this copyright notice, please contact us at (email: service (at) ProfitMaxChemical.com) and we will request relevant information to allow us to review the request. If your request is approved, that approval will be subject to specified terms set out in such grant and you may be required to execute a license or other agreement prior to use of such Copyright Materials.