ProfitMax Chemical Podcast. Environmentally Sensitive Cleaning Podcast. A ProfitMax Chemical Blog.
The Environmentally Sensitive Cleaning Podcast from ProfitMax Chemical Introduction and a bit of an introduction to ProfitMax Chemical as well.
This podcast covers an array of topics surrounding the products, process, and performance of environmentally sensitive cleaning and sanitizing solutions for any business of any size.
Many of the concepts included will range from the stewarding, to the training, as well as the defining and explaining of many topics, many options, and many opportunities that surround sensitive cleaning solutions that consider the environment you're cleaning in, as well as the environment outside.
Different episodes will include Tim Bluhm, the vice president of sales and of ProfitMax Chemical. You'll hear from Brian Bluhm, the founder and CEO. You'll also hear from Conagher Bluhm, the primary chemical technician. The concepts here will share about the products that ProfitMax Chemical loves, but also why they love them, how to use them, and how to use them effectively.
A little bit more about ProfitMax Chemical:
ProfitMax Chemical is a training and sales company, distributing environmentally sensitive cleaning products and the education on how to use them. The ProfitMax Chemical stewarding process offers cleaning and sanitizing solutions, individualized and personalized for every business.
ProfitMax Chemical aims to serve as an endurance resource, providing inviting and clean locations for all their customers. We address the question: What are environmentally sensitive cleaning solutions as well as a series of others in our FAQ section on the website as well.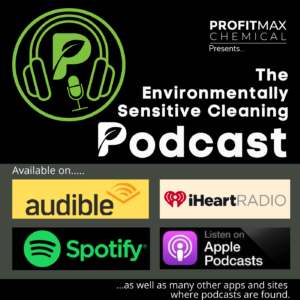 Three of their cornerstones, as well as three of the key elements and topics on this podcast, include educating, serving, and stewarding.
Educating:
By providing education and training on the use of products, with the individual and the environment in mind, money can be saved, time can be saved, and a better clean for the business, the people working in the business, the customers visiting the business, and the bottom line are all included from the FAQs on the website, to our conversations with customers on site.
Serving:
ProfitMax Chemical serves a wide array of businesses and individuals, from supermarkets to laundries, restaurants and hotels, as well as horticulture, agriculture, and many other commercial markets that are looking for that clean, but that clean that goes a little further, the one that considers the environment, the one that considers the people.
And the third,
Stewarding for ProfitMax Chemical and the Podcast:
Delivering a quantitative and qualitative proof of process for every product, the production of that product, the manufacturing and the distribution, all the way down to the use of that product.
We hear a lot of people talking about a lot of products:
"It's the greatest thing since sliced bread." 
However, is the proof, the validity, and the authority there to back it up beyond the hype?
And that's one of the differentials that ProfitMax Chemical talks about.
The training is not just, "Here's a chemical and here's how to use it."
It goes deeper. The Environmentally Sensitive cleaning podcast goes into many other ideas…
It goes into the ideas about:
how to use,
how to train on how to use,
what to watch out for,
what to consider,
and when it's time to change things.
From training and educating to the continued relationships and personalized products, ProfitMax Chemical aims to serve every client and connection as that endurance resource. From their customers to their listeners online,
ProfitMax Chemical is serving as that resource for product awareness, for the changes, for the shifts, for the new things, and for the old.
They also want to be that informative pathway for purchasing, looking a little deeper into the products and how those products can work for you, and with you, and with your team, where you are, and what kind of business you have.
ProfitMax Chemical also is serving as a public and consumer education advocate to share about the safety elements; to share about what is safe, and where is that backed up; what is not safe, and where to look that up too. It's not claims, crazy marketing statements. It's valid, it's down to earth, it's understandable, and it's information that's attainable and applicable to your business and your clean.
They also serve as a source of authority for training.
This is not taking away from the present people that may be training you, but it's allowing you extra information, extra intelligence, to decide what applies to you, what applies to your business, what applies to the updates and the changes across the cleaning solution spectrum.
As a 20-year established company of training, educating, and sales in the cleaning industry, ProfitMax Chemical offers an ongoing array of these environmentally sensitive products and services. For most, cleaning is part of everyday life at home business. By helping to educate and serve, ProfitMax Chemical is able to address and assist in a number of areas.

Podcast questions addressed by ProfitMax Chemical
Now for many, cleaning can be confusing, expensive, and even dangerous at times. Some of the questions that are often asked, and some of these questions that will be addressed on episodes in these podcasts, as well as videos, include:
Do I go completely green with my clean, or should I use chemicals at all?
Are those chemical cleaners safe for my employees and customers?
Can I combine products for a greater result, and how diluted should they be?
How hot does the water really need to be?
What are the effects on my skin, my eyes, and my nose?
Do I need to open windows or do I need to wear gloves when I clean?
And what is fact and what is opinion surrounding chemicals and cleaning today?
When it comes to cleaning and sanitizing solutions, ProfitMax Chemical's qualitative and quantitative proof of process centers around educating, selling, and training on the products and the individualized applications.
Here on The Environmentally Sensitive Cleaning Podcast, it focuses on the education and on the training concepts.
This proof of process discussed with every customer, as well as in the ProfitMax Chemical videos and in this podcast, take into account the cost elements; the product specifications; understanding the products; the time it takes to clean; the amount of product required to clean; employee training modules; management and education support; and last, but definitely not least, the environmental impact.
Some of the topics might seem like second nature to you… but…
However, that second nature to you might be something that someone else hasn't thought about.
It could be something as simple as properly labeling the spray bottles you use, to thinking a little bit more about that dwell time, that time chemistry, and mechanical action to step away after the foam goes on, to let that clean begin to occur by itself before you wipe it off.
And some of the podcasts will go into the training. It's not that perhaps your training is off, but to constantly have to train in a position that is highly turned over can become highly annoying.
ProfitMax Chemical believes there's a rhythm to cleaning correctly. It's the proper tools, the proper process, the proper chemicals, as well as the proper training.
And that's why they want to serve, and they do serve, as an endurance resource to look at different ways to set up training, not only for the individuals that you have, but also for the turnover you may experience.
The ProfitMax Chemical Podcast will also go into the building aspects of your businesses, as you're building and you're looking at the blueprint of what you're creating for your market, your restaurant, your hotel, or whatever business.
The Environmentally Sensitive Cleaning podcast shares…
concepts and ideas to consider in the construction, things to make access to those cleaning chemicals that much easier from the start, and carefully that much more out of the way, so that the access is easy, it's fast, and those cleans can occur even when people are right there running around shopping, eating, dining, or whatever.
And finally The Environmentally Sensitive Cleaning Podcast from ProfitMax Chemical wants to touch on humor as well.
Send us in some of your favorite stories.
Send us in those stories of the things you never thought you'd have to write down in your training manual, but you had to address. Cleaning can be funny. It can be strange. It's something that many people don't necessarily want do. But as you've probably seen it, many funny stories have arisen.
So that gives you a basic idea about The Environmentally Sensitive Cleaning Podcasts theme as well as ProfitMax Chemical. This is episode one from season one. The next episodes will go into some of these trainings, some of these education elements, some of these fun elements.
Some of the sites where you can find the ProfitMax Chemical podcast include:
iHeartRadio
Apple Podcasts
Spotify
Amazon Music
Amazon Audible
Google Podcasts
Stitcher
Spreaker
Podbean
Radio Public
Podchaser
CastBox
Acast
IMdB
Podcast RSS Feed
So that gives you a basic idea about The Environmentally Sensitive Cleaning Podcast, as well as ProfitMax Chemical. This is episode one from season one. The next episodes will go into some of these trainings, some of these education elements, some of these fun elements.
Some of the episodes include.
Sunburst Chemicals Top Four Products in under two minutes
Trap Tender Device from Sunburst Chemicals. A 2 Minute Tip 
and
Environmentally sensitive cleaning podcast Introduction
We welcome your thoughts as well.
For more information, you can visit us at https://profitmaxchemical.com/ and most social media sites. Just add /ProfitMaxChemical.
*********************
ProfitMax Chemical
Environmentally Sensitive Cleaning Solutions
*********************
2073 FM 89 Buffalo Gap Road.
Buffalo Gap, Texas 79508.
United States of America.
*********************
Website: https://profitmaxchemical.com
Facebook: https://facebook.com/profitmaxchemical/
Instagram: https://instagram.com/profitmaxchemical/
Twitter: https://twitter.com/profitmaxchem/
*********************
ProfitMax Chemical Podcast. Environmentally Sensitive Cleaning Podcast