Sentinel from Sunburst serves as an effective multi-purpose no-rinse sanitizer. Recommended for use in restaurants, bars, and more locations. A ProfitMax Chemical Sunburst Chemicals Spotlight.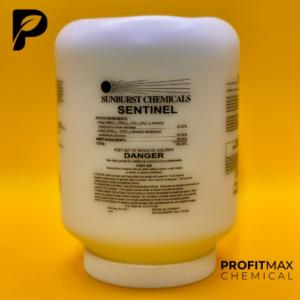 Sentinel from Sunburst is one of the standard solid chemicals provided by Sunburst Chemicals.
It serves as the sanitizing agent in the lineup and is one of the most important components of the cleaning process. After soap is used to clean an item or surface then sanitizer is applied to prevent future contamination. In most cases, such as food prep areas, it should be used every night after clean up.
Sentinel is an effective multi-purpose no-rinse sanitizer. Recommended for use in restaurants, bars, food processing plants, and other food handling institutions.
Safe, solid form minimizes hazards of employee contact and injury due to spills or splashing concentrated liquids
Effective in hard water conditions up to 400 ppm hardness (as CaCO₃)
Product is Kosher certified
No rinsing required after application
Freeze and thaw stable
Highly effective quaternary ammonium chloride sanitizer

Effective against:
EPA Registration #670-1
Patent #6, 518, 313 B1

Sentinel is an ammonia-based sanitizing agent…
…so it's well designed to kill and prevent the spread of contaminants.
This includes more than just your usual bacteria, it's highly effective against pests such as roaches and flies and even creates no go zones for rodents.
As a further convenience it is designed to work in conjunction with the rest of the Sunburst lineup, so if you get it mixed in with Sunburst soaps or degreasers it won't result in negative reactants. The same can't be said for more generic chemicals though.
As added bonuses, Sentinel is freeze stable and rinse free.
Freeze stable means that it can be used at any temperature without losing effectiveness, even if it freezes completely.
That can be handy when working in freezers where temperature changes make many chemicals unreliable.
Being rinse free means that it does not require rinsing after use. It can and frequently should be left on a surface as the last step in the cleaning process.
"Sentinel is highly versatile and there's a good chance it may be what a customer is looking for.
Especially since it's mandated by the health department."
These features make Sentinel easy to use for many people and don't include other small bonuses, such as the sanitizer being Kosher compliant or able to operate in water up to 400 ppm of hardness.
Sentinel can serve as your go to anchor…
in sanitation and be relied on in most situations.
Whether it be food prep, janitorial work, bathrooms, counters, checkout stands, floors, and more.
*********************
ProfitMax Chemical
Environmentally Sensitive Cleaning Solutions
*********************
2073 FM 89 Buffalo Gap Road.
Buffalo Gap, Texas 79508.
United States of America.
*********************
Facebook
Twitter
ProfitMax Chemical Podcast
*********************
Learn about other Sunburst Chemicals products like What is Biozyme? in the ProfitMax Chemical FAQs

*******************
ProfitMax Chemical Sunburst Chemicals Spotlight: Sentinel from Sunburst.