Listeria monocytogenes? What is it and how do you minimize the threat? A ProfitMax Chemical Environmentally Sensitive Cleaning Solutions FAQ.
Kind of sounds like a horror movie? Still, this is a bacteria that can be a little scary.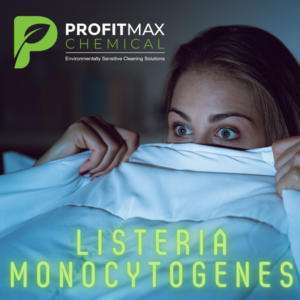 Listeria monocytogenes? What is it and how do you minimize the threat?
Two kinds of bacteria present in the food industry are Staphylococcus aureus or staph, a type of bacteria found on people's skin and Escherichia coli or E. coli. Both are usually harmless, but they can cause serious infection outbreaks  if not managed properly.
The big boy concern for the food industry is Listeria monocytogenes or just plain Listeria which has been known to continue to grow or replicate and survive at 32 degrees on softer foods like leafy greens, soft cheeses, meats and the like across any grocery store or facility unsanitized tools or food preparation surfaces.
Infection
The listeria infection from Listeria monocytogenes also called Listeriosis is a serious, but preventable and treatable disease.
"Listeria infection is a foodborne bacterial illness that can be very serious for pregnant women, people older than 65 and people with weakened immune systems. It's most commonly caused by eating improperly processed deli meats and unpasteurized milk products."
A wide, wide Range
There are a range of symptoms for listeriosis.
"Depending on the severity of the illness, symptoms may last from days to several weeks. Mild symptoms may include a fever, muscle aches, nausea, vomiting, and diarrhea. If the more severe form of listeriosis develops, symptoms may include headache, stiff neck, confusion, loss of balance, and convulsions. For the very young, the elderly, and the immune-compromised listeriosis can result in death." – FDA
It doesn't even need Oxygen
It is a facultative anaerobic bacterium, capable of surviving in the presence or absence of oxygen
So when it comes to Listeria monocytogenes? How do you minimize the threat?
Sentinel is the solid, no rinse sanitizer manufactured and patented by Sunburst Chemicals as an effective preventative against staph, E-coli and Listeria. As such, finishing the cleaning process by sanitizing with Sentinel sanitizer from Sunburst after washing and rinsing food prep tools and surfaces minimizes the threat of these organisms.
A ProfitMax Chemical FAQ. Do you have a question about Dishwasher Training? Feel free to have a look at the ProfitMax Chemical Frequently Asked Questions page for Do you really need to train a dishwasher?
The ProfitMax Chemical Podcast is available on most sites and apps where you may listen to podcasts as well as on Audible too. What is ProfitMax Chemical? We call it an Environmentally Sensitive Cleaning Solutions Company based just south of Abilene, Texas.
What are Environmentally Sensitive Cleaning Solutions? We define them as Cleaning solutions that are environmentally sensitive consider the entire process of manufacturing practices and packaging materials, marketing, shipping, and transportation and even relating to the end year reports as to the bottom line of a company's productivity. Environmentally sensitive cleaning solutions further accounts for water consumption and the impact on people.
*
2073 FM 89
Buffalo Gap, Texas 79508.
United States of America.
*
Website
LinkedIn