Sunburst Chemicals Line. Our top four favorites from ProfitMax Chemical. Our final four of sorts from the wide array of Sunburst Chemicals products and solutions.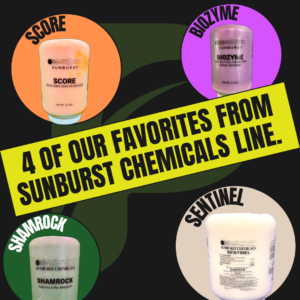 4 from the Sunburst Chemicals Line. Well, lining up 4 of our favs.
Here are four products from the Sunburst Chemicals line… Four we love at ProfitMax Chemical. And, a little bit of information and links to each of the products. 
For starters, Biozyme Drain Cleaner.
"This is the primary chemical that you will be using in most three bin sinks or food prep areas."
Biozyme is the showcase drain cleaner provided by Sunburst Chemicals. It is a solid purple chemical sold in the standard Sunburst capsule. Unlike the rest of the Sunburst Chemical line, Biozyme gets its very own Trap Tender dispenser.
Because Biozyme is a digestant, it performs a number of additional services.
By eating away at organic matter is deprives pests and bugs like flies and cockroaches food and nesting material, preventing them from laying eggs and spreading around your food prep areas.
More on exactly what is Biozyme on the Sunburst Chemicals Biozyme Page.
Next up for the Sunburst Chemicals Line: the Score Degreaser from Sunburst
"This is the primary degreaser and as the name suggests
Score degreaser's primary purpose is to degrease a department."
Score is the basic degreaser in the Sunburst Chemicals line up.
Score is a much loved product thanks to its high versatility and it's the only degreaser in the Sunburst Chemical Line catalog that can be handled without gloves. For most customers, it's one of the few unavoidable chemicals due to its central role in regular food prep cleaning.
The orange, citrus scented chemical is the primary degreaser used by most Sunburst dispensers and is one of the Sunburst Chemicals products and solutions intended cleaner for floors and equipment in most meat markets.
More on Score on the Sunburst Chemicals Score Page

Another one of our Favorites for ProfitMax Chemical, Sentinel Sanitizer from Sunburst
It serves as the sanitizing agent in the lineup and is one of the most important components of the cleaning process. After soap is used to clean an item or surface then sanitizer is applied to prevent future contamination. This makes Sentinel from Sunburst one of the core standard solid chemicals provided by Sunburst Chemicals. 
As a further convenience it is designed to work in conjunction with the rest of the Sunburst lineup, so if you get it mixed in with Sunburst soaps or degreasers it won't result in negative reactants. The same can't be said for more generic chemicals though.
In most cases, such as food prep areas, it should be used every night after clean up. Sentinel from Sunburst is an effective multi-purpose no-rinse sanitizer. Recommended for use in restaurants, bars, food processing plants, and other food handling institutions.
More on Sentinel on the Sunburst Chemicals Sentinel page 
Last of the four but not least, Shamrock Dish Detergent.
"No extra bells and whistles, it's the beer and potatoes of cleaning products."
Shamrock Dish Detergent from Sunburst Chemicals is the Green Soap. Shamrock is one of the two primary dish detergents offered by Sunburst Chemicals.
The green soap is rather unassuming compared to many of the flashier chemicals in the line up. It is a dish detergent used for cleaning dishes in the three bin sink.
This means a powerful but safe cleaner that can provide much of the elbow grease in chemical form while being benign to human touch. With an emphasis on combining the strongest cleaning with the softest chemicals, Shamrock is an impressive midpoint cleaner in general.
It fulfills the needs of general cleanliness without requiring special use or equipment. Like all Sunburst products both its manufacture and use are environmentally sensitive.
More on Shamrock Dish Detergent on the Sunburst Chemicals Shamrock Page
Do you have any questions, or Sunburst Favorites we missed?
You can let us know in the comments section below or reach out to us at ProfitMax Chemical.
About Us at ProfitMax Chemical:
ProfitMax Chemical is an environmentally sensitive cleaning solutions company dedicated to helping supermarkets, laundries, restaurants and hotels with the cleaning solutions that may work best for them and providing the education on how to use the products and systems for the greatest results. Our stewarding process offers cleaning and sanitizing solutions individualized for each business. ProfitMax Chemical aims to serve as an endurance resource providing inviting and clean locations for all their customers.
Would you like us to review your stores layout, current products and training systems? We are happy to help in any way we can. Contact us here https://profitmaxchemical.com/contact to set up a time to talk by phone, video or in person.
Read more…
of the ProfitMax Chemical blogs about products and training on our news and blog page here: https://profitmaxchemical.com/news/
Subscribe to our YouTube channel for more videos from ProfitMax Chemical, our stewarding and training approach as well as our simplified and down to earth video shorts.
© 2022 ProfitMax Chemical. All Rights Reserved ® ℗
#sunburstchemicals #profitmaxchemical #Biozyme We hope you found this Sunburst Chemicals Line blog helpful.
*********************
ProfitMax Chemical
And here is a little about us.
Environmentally Sensitive Cleaning Solutions
*********************
2073 FM 89 Buffalo Gap Road.
Buffalo Gap, Texas 79508.
United States of America.
*********************
Facebook
Twitter
ProfitMax Chemical Podcast
Our news and blog page too.
*********************
ProfitMax Chemical is a WorldWide Business Solutions of Abilene Company.
*********************
Sunburst Chemicals Line. Our top four favorites from ProfitMax Chemical when it comes to Sunburst Chemicals products and solutions.