Sunburst Chemicals Training Blog and Video for Trap Tender Maintenance for the drain treatment system from ProfitMax Chemical's Conagher Bluhm
Sunburst Chemicals Training Blog and Video about the Trap Tender.
Most of the time, the Trap Tender, the small gray box with the button on the front will inform you when it's broken, there will be a small light right above the button that will begin flashing in case of malfunction in the microchip or more frequently, a low battery.
Do note that when that low battery runs out, it will die and it will go blank, but it's usually easy to test out.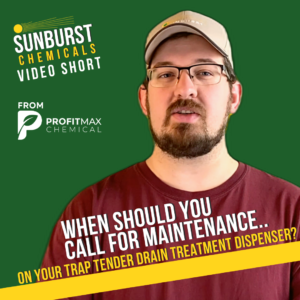 Pushing Buttons or pressing buttons? It can be a good thing at times.
You press the button, if nothing happens, it's time to call for service. Otherwise, same rules applies most of the time, just keep a fresh capsule of Biozyme drain treatment on top of it. And you don't have to worry about anything else.
If you see the warning light flashing the front of the Trap Tender, that's an indication that it's time to call for maintenance, whether it be a battery issue, a mother board issue or the solenoid going, that's the time when ProfitMax Chemical is happy to come out and take care of whatever issue you may be happening.
Sunburst Chemicals Training Blog Simple and Sweet,.
If your Trap tender drain treatment unit is malfunctioning normally indicated by either a light flashing on the front of the machine or it not working when you press the button, that's not your problem nor concern.
About Us at ProfitMax Chemical:
ProfitMax Chemical is an environmentally sensitive cleaning solutions company dedicated to helping supermarkets, laundries, restaurants and hotels with the cleaning solutions that may work best for them and providing the education on how to use the products and systems for the greatest results.
Our stewarding process offers cleaning and sanitizing solutions individualized for each business.
ProfitMax Chemical aims to serve as an endurance resource providing inviting and clean locations for all their customers.
Would you like us to review your stores layout, current products and training systems? We are happy to help in any way we can. Contact us here https://profitmaxchemical.com/contact to set up a time to talk by phone, video or in person.
Read more…
More here about Sunburst Chemicals Trap Tender Proper Care and Usage as well as an article answering the question; What is Biozyme? 
of the ProfitMax Chemical blogs about products and training on our news and blog page here: https://profitmaxchemical.com/news/
Subscribe to our YouTube channel for more videos from ProfitMax Chemical, our stewarding and training approach as well as our simplified and down to earth video shorts.
© 2022 ProfitMax Chemical. All Rights Reserved ® ℗