Sunburst Chemicals Trap Tender Proper Care and Usage. In this ProfitMax Chemical Proper Care blog and video, we'll give an easy clarification on the with the education and training on the product in a way that is simple for everyone to understand.
You are be able to learn a lot more regarding the Trap Tender and many of the other Sunburst Chemicals products here: https://support.sunburstresults.com/product/trap-tender/

Sunburst Chemicals Trap Tender Care and Usage.
Conagher Bluhm, is the main chemical technician with ProfitMax Chemical. In the video below, he explains how the task of the Trap Tender Dispenser is simply to tend to your grease trap. It performs this by spraying Biozyme drain treatment down the drain every night at one am.
It does this so the digestions within the Biozyme have time to work on all the greases, proteins, fats and hairs and additional gunk that get down there. This clears out the pipe so you don't have to handle this task manually.
Tending to the tender is simple. It only requires two jobs.
They are jobs that do not occur all that often. One is to always ensure that there's a capsule with Biozyme on the top of the machine.
And job number two or your second task for overseeing Sunburst Chemicals Trap Tender is to keep an eye to see if the low battery light is ever flashing.
If it is flashing, this is the right time to call either ProfiitMax Chemical if you are one of our clients or your Sunburst Chemicals maintenance representative. They will take care of this for you.
It is not your job.
It's that straightforward when it comes to the education and training  around the Sunburst Chemicals Trap Tender Proper Care and Usage…
or as we like to say, tending to the tender.
Here are some extra details about the Sunburst Chemicals Trap Tender Device also known as the TTB 5000 Grease Trap & Drain Line Maintenance System
The Sunburst Chemicals Trap Tender Dispenser provides automatic dispensing and is electronically controlled dosing schedule prevents formation of solid organic material in grease traps, drain lines or septic systems.
– It's water-resistant with a water tight seal that protects the machine and the battery.
– It's battery supercharged with a brand new electronic technology that provides years of battery life.
– It also includes a low Battery warning light.
– The trap tender also includes a push to dispense button pad for manual charging conditions.
– The programming of the Sunburst Chemicals Trap Tender Dispenser permits for multiple event programming capability and adapts to most conditions and drain systems.
– The device provides the most dispersion with a minimum of 172 ounces of fluid that is delivered per 2-ounce dose. This will increase the dispersion, contact and effectiveness altogether.
– Learn more regarding this and many other devices and products from Sunburst Chemicals at https://sunburstresults.com/
If you have any additional questions….
about Sunburst Chemicals Trap Tender Proper Care and Usage, please connect with ProfitMax Chemical or one of our chemical technicians or some one from our training team to find the answers that you are looking for.
And when should you call for maintenance on your Trap Tender drain treatment dispenser? Here is a short video link that explains.
ProfitMax Chemical is stewarding environmentally sensitive cleaning solutions for supermarkets, laundries, restaurants, hotels and others by providing the products, education, training and options available to achieve the clean you may be looking for.
Our stewarding methodology offers cleaning, sanitizing and training solutions that are personalized for any business of any size.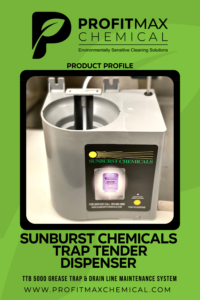 *********************
ProfitMax Chemical
And here is a little about us.
Environmentally Sensitive Cleaning Solutions
*********************
2073 FM 89 Buffalo Gap Road.
Buffalo Gap, Texas 79508.
United States of America.
*********************
Facebook
Twitter
ProfitMax Chemical Podcast
Our news and blog page too.
*********************

Sunburst Chemicals Trap Tender Proper Care and Usage.