Sunburst Chemicals Shamrock Dish Detergent Spotlight. The Green Soap. A ProfitMax Chemical Spotlight on Sunburst Chemicals Shamrock Solid Pot and Pan Detergent that is great for pots, pans and dishes of all types.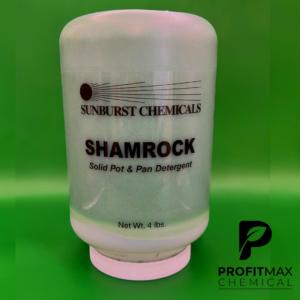 Sunburst Chemicals Shamrock Dish Detergent Spotlight. The Green Soap.
Shamrock is one of the two primary dish detergents offered by Sunburst Chemicals.
The green soap is rather unassuming compared to many of the flashier chemicals in the line up. Its a dish detergent used for cleaning dishes in the three bin sink. No extra bells and whistles, it's the beer and potatoes of cleaning products.
What it does do though, it does well.
As the first step in the wash, rinse, sanitize process, Shamrock is able to perform the heavy lifting of removing the bulk of the contaminants or leftovers from dishes.
This means a powerful but safe cleaner that can provide much of the elbow grease in chemical form while being benign to human touch. With an emphasis on combining the strongest cleaning with the softest chemicals, Shamrock is an impressive midpoint cleaner in general.
It fulfills the needs of general cleanliness without requiring special use or equipment. Like all Sunburst products both its manufacture and use are environmentally sensitive.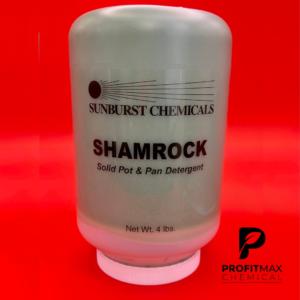 As a matter of use Shamrock can be the emerald standard of dish cleaning.
Not only is it safe and effective, but it's not particularly finicky. Sanitizer requires particular PPM settings to work, but soaps like Shamrock can be set however the user wants. If the user wants to save soap and doesn't have a particularly dirty load they can weaken the settings and keep it thin.

"If the user wants to have a bubble bath they can crank the setting up and glory in the foamy goodness."

And the length of the hose for that setting can be adjusted by you and your preference too. Here is a short video on how to modify the vinyl hoses on your Sunburst Chemicals Equipment.

It's the simplest user experience in the Sunburst lineup and while that makes it easy to overlook, the entire process couldn't work without it. After all, you have to use the soap to clean the articles before you can start sanitizing or otherwise treating them. It should be noted that while Shamrock can tackle greasy sinks, it's not always the best at it.

Many customers often prefer Score when they have more problems with grease than other food remnants. This doesn't discount the utility of Shamrock though, which can have a fresher impact on the dishes themselves.

In rare cases where auxiliary sinks are available, it can be useful to degrease and then wash dishes before use. That allows the user to get the full use out of the Shamrock dish detergent regardless of the department environment. So whether you're cleaning up a regular meat market or driving the snake stains out of your deli, Shamrock may be the soap for you.
Shamrock is a mild, yet high sudsing pot and pan/manual dishwashing detergent in solid form.
It delivers an excellent performance in all water conditions with a pleasant scent.
Pot & Pan Detergent
High suds
Mild to hands
100% active raw materials-no water or fillers added
Specially formulated to remove greasy soils on contact
High sudsing, mild to hands
Unique dispensing system eliminates overuse
Each capsule yields approximately 2,130 gallons of use solution per 4 lb capsule
And when it is time to look into sanitizers, ProfitMax Chemicals invites you to look into Sentinel from Sunburst as an option. 
From dish detergents to asking the question, Do you really need to train a dishwasher?  ProfitMax Chemical is here to address questions, products and the service around them in both the FAQs and blogs on the site. 
*********************
ProfitMax Chemical
Environmentally Sensitive Cleaning Solutions
*********************
2073 FM 89 Buffalo Gap Road.
Buffalo Gap, Texas 79508.
United States of America.
*********************
Facebook
Twitter
ProfitMax Chemical Podcast
*********************
Sunburst Chemicals Shamrock Dish Detergent Spotlight. The Green Soap.